The Tablo® Hemodialysis System is changing dialysis.
Tablo is a dialysis machine designed from the inside out to offer a better experience for patients and providers.
Dialysis just got smarter, easier, better, more personal
Automatic, regular updates that help Tablo get smarter over time
Flexible treatment duration — from 5 minutes up to 24 hours with no supply changeover
Integrated blood pressure cuff
Compatible with high-flux dialyzers
Built with 360-degree rotating wheels and directional locking rear wheels for busy providers on the move.
Tablo is more than a dialysis machine; it's an enterprise solution that improves the user experience with a robust ecosystem of digital tools.
Simple touchscreen interface
3D animations and conversational instructions help guide users through system set-up, treatment, alarm resolution and maintenance.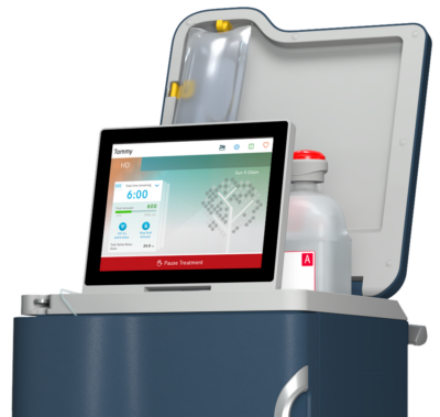 Access Tablo data anywhere – on TabloHub®
Two-way communication with the cloud can seamlessly transmit treatment data both to the provider and to a unique remote diagnostics platform that powers service and support.
Remote patient monitoring
Providers have the ability to remotely monitor treatments from outside the patient room, view the current status of all Tablo systems at their location, and see all treatment data in near real time.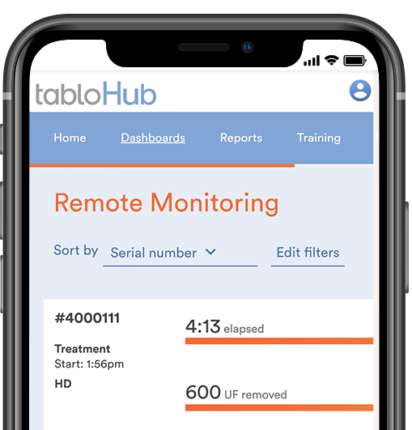 Automate documentation with EMR Connect
Fully integrated with your EMR, send 70+ treatment data fields, real-time updates and event-based alerts from Tablo to a compatible EMR system via secure, cloud-based connectivity.
Discover the clinical versatility and customer support that ground Tablo in practice.
Using just tap water, an outlet and a drain, Tablo makes it simple to perform dialysis anytime, anywhere.
Treatment specifications
Extracorporeal circuit volume
140 mL (excluding dialyzer)
Maximum ultrafiltration rate
UF accuracy for DFR ≤ 100 mL/min
+/- 2% UF Rate + 25 mL/hr
UF accuracy for DFR > 100 mL/min
+/- 2% UF rate + 40 mL/hr
PRO+: 50-300 mL/min
Std.: 100-300 mL/min
Standard 45X proportioning
Bicarbonate and acetate/citrate acid
Dialysis fluid potassium (K)
Dialysis fluid calcium (Ca)
0, 1.0, 1.5, 1.75, 2.0, 2.25, 2.5, 2.75. 3.0, 3.25, 3.5 Ca
Dialysis fluid temperature
Commercially available high-flux dialyzers
PRO+: 5 min-24 hrs
Std.: 5 min-12 hrs
Treatment modalities
Intermittent hemodialysis
Sustained low efficiency dialysis
Prolonged intermittent renal replacement therapy
Treatment features
Automatic fluid removal adjustment with manual and scheduled options
Automatic with volume tracking
Automated and adjustable rate
Integrated blood pressure cuff
Maintenance features
Automated daily heat disinfection
Full and quick chemical disinfection cycles
Individually replaceable by user
Water specifications
EPA primary or secondary standards for drinking water
Integrated sediment, carbon, RO, ultrafilter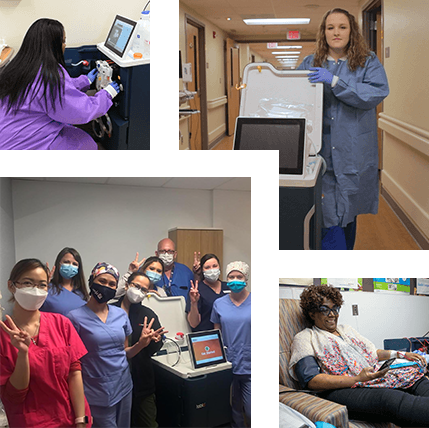 Already a Tablo user? Get connected!
The Tablo® Hemodialysis System is indicated for use in patients with acute and/or chronic renal failure, with or without
ultrafiltration, in an acute or chronic care facility. Treatments must be administered under physician's prescription and
observed by a trained individual who is considered competent in the use of the device. The Tablo Hemodialysis System is
also indicated for use in the home. Treatment types available include Intermittent Hemodialysis (IHD), Sustained Low
Efficiency Dialysis (SLED/ SLEDD), Prolonged Intermittent Renal Replacement Therapy (PIRRT), and Isolated Ultrafiltration.
This device is not indicated for continuous renal replacement therapy (CRRT) and is cleared for use for up to 24 hours. The dialysate generated by this device is not sterile and should not be used for intravenous (IV) infusion.