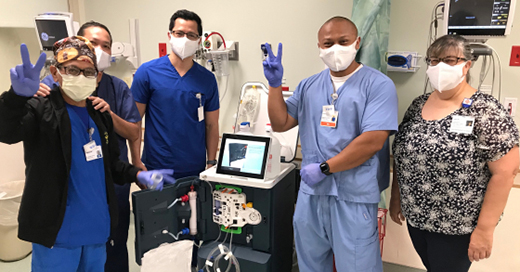 Finally, a partner in dialysis services
Whether you're switching to the Tablo® Hemodialysis System or expanding your current Tablo dialysis program with new service lines, our expert team offers tailored services to help ensure your staff has the clinical training, technical service and support programs they need to be successful.
Tablo is easy to learn and use, allowing nurses to be trained quickly and confidently to flexibly manage hemodialysis treatments. Through a combination of in-person education and e-learning resources, new users can confidently operate Tablo in a matter of hours.
Step-by-step touchscreen guidance and automatic safety checks enable smooth transitions for Tablo users learning the system. Clinical training for nurses, technicians and biomedical staff includes a combination of e-learning, in-person demonstrations and instructions–all totaling less than 4 hours.
Through TabloHub, Outset customers gain access to a library of e-learning resources and specialized courses, allowing them to continue to deepen their system expertise.
10,000+ nurses
trained
Outset's field service team is fast, knowledgeable and responsive, providing reliable technical service for all critical elements of the Tablo system. The team delivers exceptional value to support customers' dialysis program goals, with various levels of coverage available.
Service agreements are designed to ensure staff feels confident, equipped and supported in managing their dialysis program. Plans may include a combination of planned maintenance, onsite support, phone support, software updates, digital access and technical training.
We offer several full-service coverage agreement options, so be sure to discuss technical service needs with a customer success team representative.
>97% first call
answer rate
Clinical support programs help customers launch new dialysis services quickly and confidently, with options for transitional staffing solutions, educational offerings and specialized resources available a la carte.
Access customized clinical support to help ensure success in dialysis delivery, regardless of location or staff experience level. These programs include vascular access training, transitional staffing solutions, and resources and services for setting up a home dialysis program.
Each of Outset's support programs is tailored to target specific requirements and can be adapted to suit the particular needs of any facility.
435+ Outset-certified "Tablo Coordinators"
Outset offers a robust set of training options, resources, services and specialized programs to support a successful transition to Tablo.
Tablo E-Learning
Online resources and e-learning modules available
to Tablo users via TabloHub.

Service & Support
Dependable support for all critical elements of the Tablo console, software, water filtration system and accessories.

Tablo Coordinators Program
Hands-on skills training to create a strong educational foundation for nurses to be leaders within their dialysis programs.
Vascular Access Program
Creating a strong educational foundation for successful dialysis access cannulation and management.
EMR Connect
Say goodbye to manual charting with real-time data integration between Tablo and compatible EMRs.
Discover Dialysis
Comprehensive online program for in-depth, foundational dialysis knowledge for clinical practice.
Bridge Program
Helping customers bridge the staffing gap when transitioning from outsourced dialysis services to an in-house Tablo program.
Contact our team
Let us show you how to integrate Tablo at your facility and introduce you to our service and support offerings.
Frequently asked questions
Request a demonstration and a field representative will meet with you to review your current dialysis services and recommend how Tablo can support your goals associated with in-sourcing your dialysis program.