Outset is looking for bold, inventive optimists who want to improve life for dialysis patients and health care providers.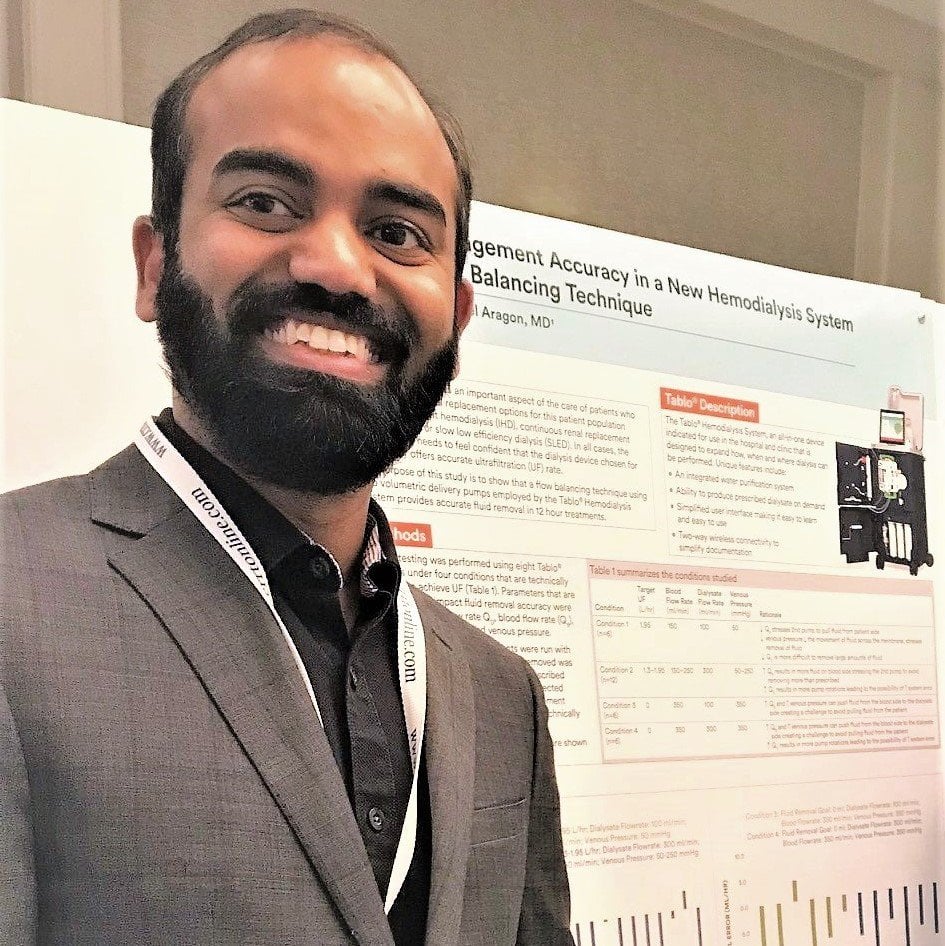 At Outset, curiosity, ingenuity and conviction power technology that can transform the lives of dialysis patients and providers.
Gopi Lingam, Director of Product Development Engineering, presenting exciting new data on Tablo at the annual AKI & CRRT conference.
Dario DePina
Tablo Clinical Sales Representative
Times like this remind me of why I became a nurse and how proud I am to work for an organization like Outset.
#TabloDialysis #BetterBeginsNow
Lauren A. Lichtenauer
One of the best decisions of my life was joining
@OutsetMedical
- Yesterday was an incredible achievement and so proud of the combined contributions of every member of our team to make this possible. Better Begins Now - for Patients, for Providers, for Family Members.
#outsetmedical #tablo
🧡
Amanda Huffman
The culture and the leadership drive so many positive changes! I've never been a part of such a dynamic team.

Lori Serrano
Director of Equity Programs
I work at an amazing company that improves the quality of life for kidney dialysis patients. So very proud to be a member of the Outset Medical team.
Elaine Cavalier
So happy we could help Tracey get some time back in her life by allowing her the freedom of completing her dialysis treatments in the comfort of her home.

Engineer

It is exhilarating to be a part of a company with an honorable mission like Outset Medical and to see and hear such positive feedback from patients of our efforts.
Tonya Saffer
Head of Government Affairs & Market Access
It's great to work for a company that's allowing hospitals to better help people with severe complications of Covid.

Gopi Lingam
Direct of Product Development Engineering
Such an amazing journey. So proud to be part of
#TeamOutsetMedical
.

Finance/Accounting Employee

The C-suite is amazing and they have somehow maintained an environment that feels calm and safe. There is no ego here.
Senior Director

No place is perfect, but I doubt you'll find any company trying harder than Outset to create a positive environment and protect it so carefully during a period of rapid growth.

Executive Assistant

What's exceptional about this place is the genuine care that people have for one another and the drive to meet our goals.
Jason Arnold, MBA
Terrific group of people working hard to better dialysis for patients. Not even COVID can keep us apart.
#BetterBeginsNow #OutsetMedical
Meet SebastianField Service Engineer
"Everyday at Outset I get to contribute to something that is bigger than me."
Meet RashmiQuality
"Amazing people, open workplace and great fun — that's how I would describe Outset. Each day I walk out with a sense of belonging, pride and contentedness."
Meet MichaelProduct Development
"Outset has allowed me to help usher in a new era in dialysis, when patients feel and live better. It's very gratifying to know that our work here improves the lives of others."