Grow your career at Outset.
Outsetters in their own words
Evolving. Expanding. Growing. Check out all the new jobs at Outset.
Recruiter phone interview
Interview with hiring manager
Final interview with dept. head
At Outset, curiosity, ingenuity and conviction power technology that can transform the lives of dialysis patients and providers.
Professional Development at Outset
Farther, faster, together!
Bold Beginnings: Onboarding Experience
New hires at Outset Medical get a unique experience integrating into the company through a one-week program at our San Jose HQ. For those in field service or sales roles, onboarding is accomplished through sales or service training, but for many new joiners, it all starts in the Bold Beginnings Experience. …

Beyond traditional onboarding, our live induction program is an incubator for cross-functional team-building, an immersion in Outset's history, a jam-packed two days of interactive sessions with executive leadership and a crash-course in the mission and purpose of what we do.

Each day of #BoldBeginnings, new Outsetters get more connected to the company, our culture, themselves as leaders and each other, walking away with a new community of diverse peers, as well as a deep sense of commitment to ensuring #BetterBeginsNow.
SPARK! Outset's Great Management Program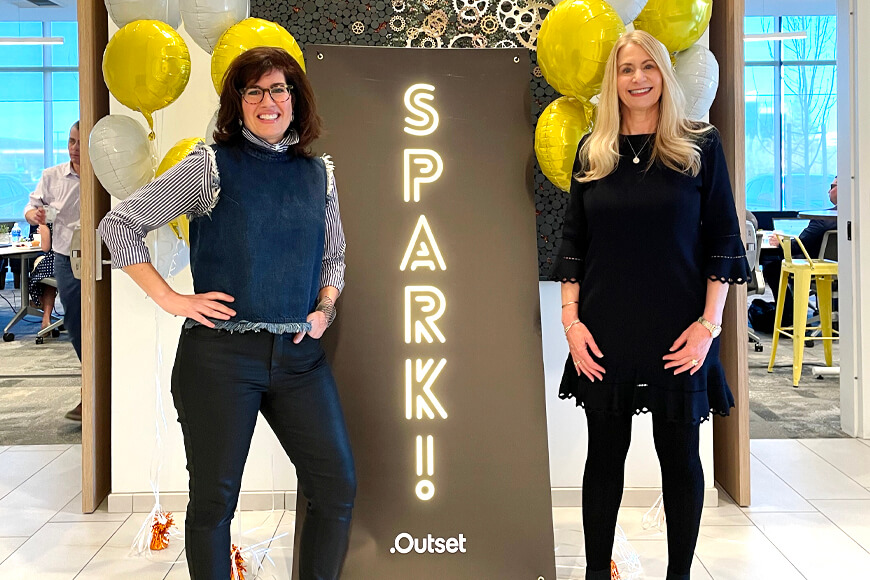 A great manager makes all the difference. That's why we created "SPARK!", our one-of-a-kind management program designed to build the best managers in the industry. In SPARK!, people managers across functions come together to exchange ideas and grow, as both managers and learners, in an environment that …challenges, supports and broadens.

Participants spend two days in engaging sessions, facilitated discussion groups and interactive activities designed to foster learning, leadership and growth.

With its grounding in real-world managerial experiences and best practices, SPARK! helps participants feel empowered to own their management style and equips them with new skills to bring "home" to support the success of their teams.
Sales Education & Field Service Training
New hires to the Field Sales team get to partake in a hand-crafted training curriculum built specifically for their role and team. From day one, new sales team hires are immersed in a blended learning approach that includes online sessions, field experiences and in-person activities at our San Jose HQ...

The Sales Education & Field Service Training program includes time in the field with outstanding mentors, dedicated 1-on-1 coaching and feedback sessions, and plenty of hands-on experiences with the Tablo Hemodialysis System — all to ensure that new hires start their journey with the foundational knowledge and skills they need to thrive.

Outside of formal training, extracurricular events help build lasting connections between new Outsetters that set them up for success on Team Outset Medical. Because, we really are better together.
Take the next step in your career with Outset.